The time in North Cyprus is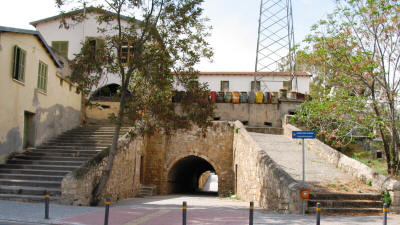 The Paphos Gate
Paphos Gate, is the smallest of the three original Venetian-built entrances to the walled city, along with Famagusta Gate and Kyrenia Gate. It was formerly known as Porta San Domenico, from the famous mediaeval monastery of St. Dominic, that had been situated close by and was demolished by the Venetians when they strengthened the old Lusignan walls. It was also known as the 'Upper Gate' because of its high altitude, 490ft above sea level.
The gate is a simple affair, being no more than a simple opening in the walls, roofed by a barrel vault. This Gate served all the roads leading to the western part of The island. During the British Colonial period, a section of the Venetian wall alongside Paphos Gate was opened to allow the ever-increasing flow of traffic to pass in and out of the city.
The Paphos Gate is as far round the walls that you can go in a clockwise direction, as the area beyond is part of North Cyprus. Here you are tight against the green line and one of its anomalies, the Catholic church of the Holy cross, with its front door in the Greek side, and its back door in the Turkish area.
See the location in Google maps
Back to South Nicosia Index