The time in North Cyprus is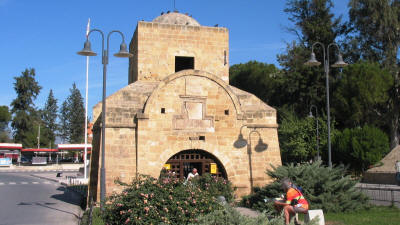 The Kyrenia Gate
For over a thousand years, Nicosia was a walled city, just like the majority of towns in the middle ages. Unlike the majority, however, Nicosia's city walls remain standing. This is in the main because of their construction, an earth rampart with stone facings, meaning there was not a lot of material for recycling as the city expanded and defensive walls became less relevant.
There were originally three gates through the Venetian city walls. The Famagusta gate was in the east, and the Paphos gate in the west. The Kyrenia gate is the arched northern entry into old Lefkosa. Built by the Venetians around 1562, it used to be called "Porta del Proveditore", named after the Venetian proveditore (city guard) Francesco. The Venetians fitted it with a portcullis and a still-visible lion of St Mark.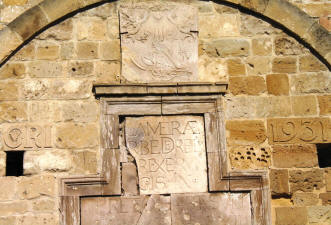 Inscriptions Above the Entrance
After their victory, the Ottomans added an inscription lauding Allah as the "Opener of Gates". The gate would open with the morning prayer call, and close with the evening prayer. During the Ottoman times, the gate was known as "Edirne Gate".
In 1821, the Ottomans repaired the gate, and added the square building on top, surrounded by a dome. This was used as a guard room. The gate has been kept in perfect condition throughout the years, and still remains one of the most attractive and well preserved historic monuments in Nicosia.
On the walls of the gate are inscriptions from Venetian, Ottoman and British times. The roads on either side of the gate, which were built by the British in 1931, are still considered to be the main entry points into the old walled city of Nicosia, thus the Kyrenia Gate maintains its importance to this day.
Having stood empty for a number of years, the Kyrenia Gate was restored in 1994, and now houses the main Tourist Information office for the city.
See location in Google maps.
Back to Nicosia Index.