The time in North Cyprus is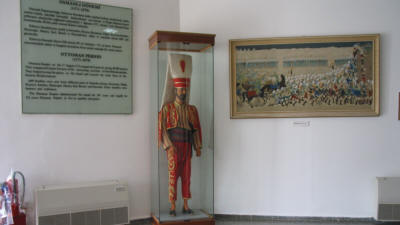 The National Struggle Museum
The museum, which is about 200m east of the Kyrenia Gate was opened in 1989. Its purpose is to remember and teach about the struggles undertaken by Turkish Cypriots from 1878 to the present day.
The first area of the museum covers the period from 1878 to 1955. 1878, when the British took over the island is generally considered to be the start of the Turkish Cypriot struggle. However very little information survives from that period.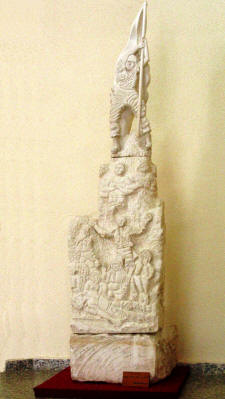 "The Epic of the Turkish Cypriot"
The second area covers the period from 1955 to 1974. In 1955, the Greek General Grivas, who had been sent to the island in 1953 to start preparation for Enosis, founded the terrorist organization EOKA. His stated aim was twofold. Firstly to make the British leave the island. Secondly to eliminate the Turks and annexe the island to Greece.
The period from 1955 to independence in 1960 was marked by considerable violence, which escalated, coming to a head in December 1963. This prompted the British to set up a buffer zone to try and stop the fighting. This was not particularly successful, and for the next ten years the Turkish Cypriots were gradually moved out of mixed areas into their own enclaves. In this section of the museum you will see a display of hand-made weapons used by the Turkish Resistance Organization (T.M.T.) during the underground years. Also found in this section are portraits depicting those years and the original broadcasting apparatus used by Radio Bayrak to broadcast during the 1963 incidents.
A Greek supported attempted coup in 1974 prompted the intervention of Turkish forces to protect the Turkish Cypriots.
The third part of the museum covers the period from 1974. In this section are exhibited the more advanced weapons used by the Turkish Cypriots between 1964-1974, weapons used by Greeks against Turkish Cypriots and portraits vividly depicting those years.
In the display cases of the fourth section can be seen the case in which the plans for the Peace Operation were carried and some belongings retrieved from the Greek Contingent Regiment. In the middle of this section are displayed the banners and emblems of the 10 Standard Bearers.
To the east of the museum are found three domestic-made armoured personnel carriers and to the west a large artillery cannon.
The museum is open to the public, but as it is entered via a military area, entry is only allowed on production of photographic identity.
See location in Google maps.
Back to Nicosia Index.