The time in North Cyprus is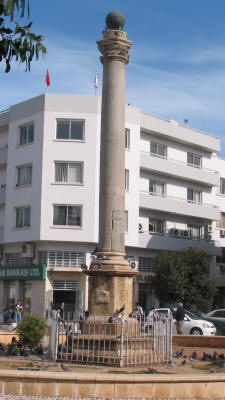 The Venetian Column
Ataturk square, locally known as Sarayonu, has been the hub of Turkish life in Nicosia since the Ottoman conquest. At that time it was called Konak Square after the governor's mansion (konak), more popularly known as the saray (palace), which stood in the southwest, formerly a Lusignan and Venetian palace.
In 1901, the British destroyed this 700 year-old complex with its fine apartments, arcaded courtyard and throne hall. Only a hexagonal fountain survived, to which a British colonial review stand was added in the 1920s. However, its name lives on in the nearby Saray Hotel and the Sarayonu Mosque, and in the local term for the area.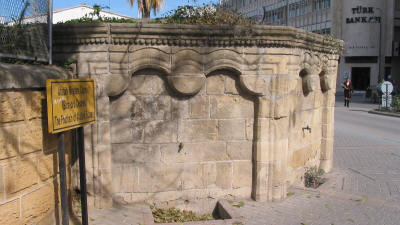 Fountain in Ataturk Square
In the centre of the square is the Venetian Column. This was moved from its original spot in 1489 from Salamis to Nicosia as a tribute to Venetian rule in Cyprus. Consequently, the column is frequently and incorrectly attributed to the Venetians. On top of the granite column was the lion of St Mark, at the bottom, the coats of arms of noble Venation families.
The Ottomans removed the lion and toppled the column in 1570 and left it in the courtyard of the Sarayonu Mosque.
In 1915, while at war with the Ottoman empire, the column was re-erected by the British. They replaced the lost St Mark lion with a bronze orb, and decorated the plinth with the dates of the demolishing and re-erection, 1550 and 1915.
In the northern part of the square, there is a fountain which was built during the Ottoman period
See location in Google maps.
Back to Nicosia Index.