The time in North Cyprus is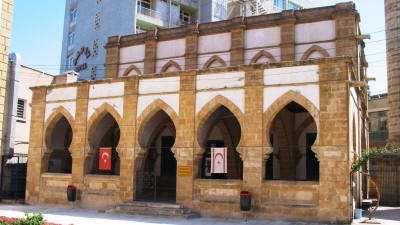 Sarayonu Mosque
The Sarayonu Mosque was built by Ali Pasha between 1820 and 1824, on the site of a Latin church dating back to the Byzantine period.
Originally called the Ordu Onu Mosque, it was used as the mosque of the Ottoman governor until its collapse (caused by an earthquake) in 1902.
In 1903, it was rebuilt by Musa Irfan Bey, the director of Evkaf (the trust fund for Islamic buildings in Cyprus), and renamed as the Sarayonu Mosque.
Built from hewn stone in a classical Ottoman style, it has a roof has a roof carried by two tapered arches, and an unadorned minaret on the side of the building. It also has a nice portico with tapered arches, and a number of short columns that were added later.
Today, the mosque is used as a wedding hall and marriage office.
See location in Google maps.
Back to Nicosia Index.