The time in North Cyprus is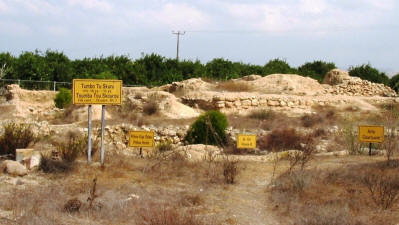 Tumba Tou Skuru
It is believed that Tumba Tou Skuru was built in the Bronze age, somewhere between 700BC and 1550BC by traders from the Aegean sea who built several cities on the island. The site is thought to have been on the mouth of a river, but silting over the centuries means that it is now some 3 miles inland.
There is evidence that the city was built on an artificial mound above marshy land. The city was originally surrounded by a massive mud brick wall, and some archaeological work was done on this in the 1930s. However the wall was almost totally destroyed in the 1950s and 60s when the local orange groves were planted.
The site, whose name translates to "The dark Mound" or "The Dark man's Mound", was excavated between 1971 and 1974 by teams from Harvard University, and the Boston Museum of Fine Arts.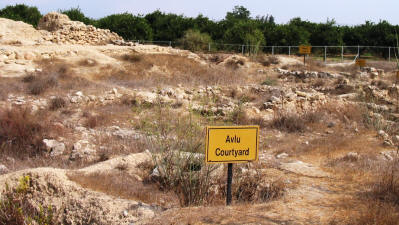 The Courtyard
During that time, only a small portion of the site was excavated, and it is thought that there are still many mysteries waiting to be uncovered. Unfortunately, the political situation on the island has prevented further excavation. The authorities in the Republic of Cyprus have stated that anyone working in Northern Cyprus will never be permitted to work either in the south or in Greece. Furthermore they are prepared to put pressure on the international community to prevent the archaeologist working anywhere else in the world.
However, over 800 pieces made out of clay, gold, silver bronze and ivory were found, along with 6 tombs, a ceramics workshop and a number of houses. These finds are exhibited in the Guzelyurt Museum of Archaeology. The discovery of copper slag on the site has led some archaeologist to believe that the town was a centre for the production and export of copper.
King Pithos' Room
The ceramic workshop produced a quantity of exceptionally good examples of slip ware and base ring ware, with vessels partially lined in black and decorated with scrapings and embossed ornaments.
The first tomb is said to belong to King Skuru. Because of the name, archaeologists believe that he was Roman, Venetian or Greek, and myths have him as a sinister cannibal, burying babies and later eating them. Three burial chambers are built into the vault, and in niches of the funnel-shaped entrance to the vault, children's bones were found, which somewhat strengthened the legend.
Many similar tombs are located in the Guzelyurt area. However the largest and historically most significant is the residence of Tumba Tou Skuru.
To reach the site, take the road from Camlibel to Guzelyurt. About 4km after passing through the village of Kalkanli, look for the start of the orange groves. About a further kilometre on, turn right here a narrow surfaced road. About 300m down this road turn right again onto an unmade track, and you will find Tumba Tou Skuru at the end.
See the location on Google maps
Back to Guzelyurt index.