The time in North Cyprus is
Agios Simeon is one of three Byzantine churches remaining in the south east corner of Famagusta, the others being Ayia Zoni and St Nikolas. It is attached to the southern wall of the much larger Greek St George church. (Or to be more accurate, the Greek St George is attached to the north wall of Agios Simeon!) It is thought that the church was built towards the end of the Byzantine rule of the island, perhaps around 1150.
An orthodox Bishopric was established at an early date, and Agios Simeon became the Orthodox Cathedral when the citizens of Salamis moved to Famagusta. It is reputed that the remains of St Epiphanios, Bishop of Salamis, were enshrined here. (Although the same claim is made for the Epiphanios Basilica at Salamis)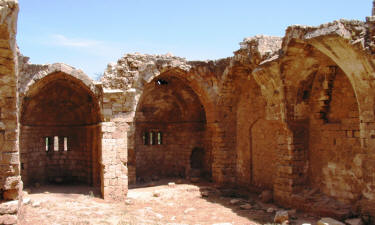 Agios Simeon Interior
The cathedral was cruciform in shape, and would have supported a dome. There were two aisles, each having a semi-circular apse. These apses each would have had an alter, one of which would have been the alter proper, and the other an alter for the preparation of the bread and wine for the Eucharist. Both alters would have been out of site behind a decorated iconostasis.
When the Lusignans arrived in 1191, they brought with them a subtle change in the style of ecclesiastical buildings in the form of grand buildings in the Latin and European style. Not to be outdone, the Orthodox community built a new cathedral alongside the old, and more in the style of the new masters of the island. Hence, Agios Simeon was abandoned after the new church was built.
See the location on Google maps.
Back to Famagusta index.