The time in North Cyprus is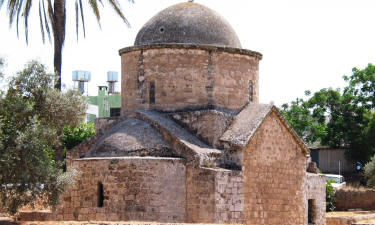 Ayia Zoni Church
Ayia Zoni church is in the south east corner of Famagusta, close to St Nikolas' church, and is one of three remaining Byzantine churches in the area.
Ayia Zoni is dedicated to the sacred belt of the Virgin Mary. According to tradition, the Holy Belt was made by the Virgin Mary herself out of camel hair. It was approximately 90cm long, with little strings at the end to tie it up. Three days after she died, during her ascension, she gave this belt to the Apostle Thomas. Thomas and the other Apostles opened her grave, but didn't find her body. Thus the belt is seen as proof of her ascension into heaven..
At some point, this church must have had a piece of this cloth, a sacred relic of the clothing of Mary.
Ayia Zoni is a simple Byzantine church, with a cross shaped plan. It is currently used as a rehearsal room for the municipality theatre group, so it is normally not open. If you do gain access, however, there are some remaining frescoes that can be seen.
See the location on Google maps.
Back to Famagusta index.