The time in North Cyprus is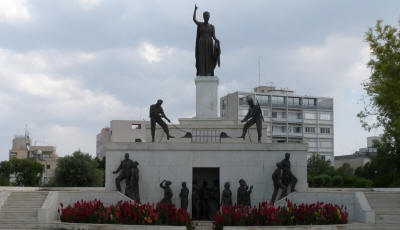 The Liberty Monument
The Liberty Monument is on the Podocatro Bastion of the city walls, close to the old aqueduct and a couple of minutes walk from the Famagusta Gate.
It was erected in 1973 to commemorate the release from prison in 1959 of EOKA fighters. It shows a statue of liberty overseeing two EOKA heroes tugging on chains in order to open prison gates and release Greek Cypriot prisoners, peasants and clergy, from British colonial rule.
You will notice that there are no Turkish Cypriot prisoners being released, as they were considered to have been allies of the British during colonial times. Remember, this is 1973, and Turkish Cypriots had by then, to all intents and purposes, become non-citizens.
For many years a huge statue of Archbishop Makarios looked along the road from the Archbishopric to the Liberty Monument, but public pressure in these times of reconciliation has caused that statue to be removed. There is likewise some embarrassment surrounding the Liberty Monument, to such an extent that it doesn't appear in many guide books. However, unlike the Archbishop, it will probably not be removed. We are, after all, talking about a country where the EOKA terrorists are seen as heroes, and there is still a public holiday named "Eoka Day" every year on the 1st April.
See the location in Google maps
Back to South Nicosia Index