The time in North Cyprus is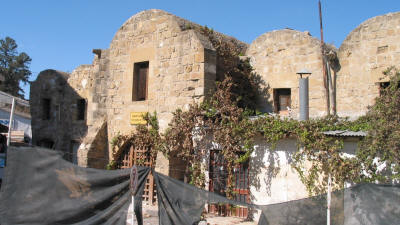 The Kumarcilar Han
The Kumarcilar Han, also called the Gambler's Inn, is just 100 yards or so north of the Buyuk Han, in Asmaalti Square, It is presently closed and semi-derelict, waiting renovation.
Much smaller than the Buyuk Han, the Kumarcilar Han is nonetheless typical of an Ottoman inner city commercial inn. It is not known exactly when the inn was built, but it is thought to be around the end of the 17th century. In the middle ages, merchants used to group themselves together according to their trades. When travelling, merchants from the same town or trade would favour certain hans, which would tend to assume the name of that town or trade. The Gambler's Inn was originally known as the Violinist's or Fiddler's Inn. It's not known when, or indeed why, the name changed.
The main gate is not original, being a comparatively recent repair. Inside, however, is a second monumental carved gate, which dates to before the Ottoman conquest. This has lead experts to believe that the structure stands on a much earlier building, possibly the ruins of a monastery.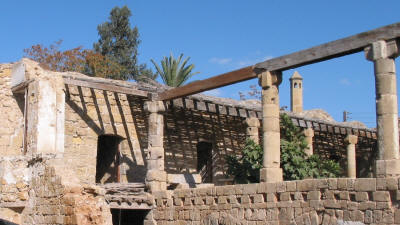 The Upper Floors
The han is a two storied building, originally having 56 rooms. Those on the upper story were used by the travellers, while those on the ground floor were used for their animals and belongings. On the ground floor, the rooms have stone floors and an external window. A stair leads to the upper storey, where the floor is marble. Some of the rooms have fireplaces.
In recent years, the building was repaired and used as an office for the Department of Antiquities. These alterations and repairs have now been removed in readiness for renovation. It is planned that the building be converted into 44 shop units, which will be rented to traders selling authentic local products including food, artworks, ornaments, and crafts.
Unfortunately, promised funding not turning up has caused the renovation to stop, and there has been no work undertaken for the last two years. There is now a serious prospect of this historic building falling down because of lack of maintenance.
Update September 2016
After several years of stop start work, the conversion is finally completed. The inn has been derelict for 35 years, and the conversion has taken the last 12. Within the Han there will be restaurants, cafes, and arts and craft shops. At the time of writing, 18 shop leases have been signed, and when fully occupied, there will be 30 units.
The formal opening is planned for the 15th October, and the Han will be open from 8am to 10pm seven days a week, and will feature regular entertainment and other attractions.
See location in Google maps.
Back to Nicosia Index.