The time in North Cyprus is
Akhiropiitos Monastery is one of the most remarkable Byzantine monuments in Cyprus. The monastery takes its name from the Greek for "made without hands". Tradition has it that the church was not built where it stands. Centuries ago, when the Ottomans were ready to burn Asia Minor, the Virgin Mary lifted it from where it was to its present location in order to save it.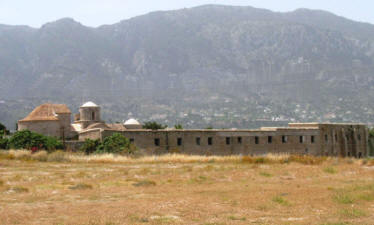 Akhiropiitos Monastery
The Akhiropiitos monastery is built on the ruins of an early Christian basilica of the 6th century, but it has been rebuilt many times, and the buildings show signs of early Christian, Byzantine and Frankish architecture. The main temple dates from the 11th century.
The monastery was the religious centre of the area, and until 1222 was the headquarters of the Bishop of Lambousa, one of the 15 Bishops of the island.
A local legend says that the shroud in which Joseph of Arimathea wrapped the dead Jesus was brought here, and rested in the basilica until 1452. Marguerete de Charny, a descendent of a nobleman of Champagne who was said to have obtained it during the crusades, then presented it to the Cathedral at Turin.
Strange though this story might sound, and although there is no proof that the shroud was ever near Cyprus, there is proof that in 1349 Geoffrey de Charny, a French knight, is already in possession of the Shroud, which some believe he acquired in Constantinople. And in 1453 Margaret de Charny, at Geneva, receives from Duke Louis I of Savoy the castle of Varambon and revenues of the estate of Miribel near Lyon for 'valuable services'. Those services are thought to have been the bequest of the Shroud.
Towards the end of the 19th century, the number of monks dropped, and the monastery was without monks by the start of the 20th century.
After independence in 1960, the area was taken over by the military, and it remains within a military area to this day.
Although within the military area and cannot be visited, a good view of the monastery can be had from the Lambousa peninsula. Take the coast road from Girne towards Lapta. Around half a mile after the turning for Alsancak, look for a road on your right signposted to the Camelot beach complex. You will also see the signs for the churches of St Evlalios and St Evlambios. Before reaching the Camelot car park turn left on to the peninsula, and you will see the monastery just beyond the church. Remember, although you are on a public area, the monastery is within the military area, so take care where your camera is pointing.
See the location on Google Maps
Back to Kyrenia index.