The time in North Cyprus is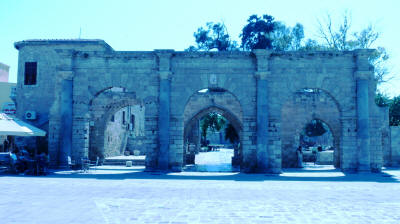 The Tripple-Arched Entrance to Venetian Palace
At the western end of Namik Kemal square, you will find the remains of the Venetian governor's palace (Palazzo del Proveditore).
When the Venetians took over Cyprus, it was not by force, but as the end result of intrigue perpetrated over many years.
In 1468 they arranged a marriage (by proxy) between the Lusignan king James II, and Caterina Cornaro, the 18 year old daughter of one of Venice's most noble families. Within a year, the king had died under mysterious circumstances, with no heir, but a pregnant queen.
The new king, James III, was to live for less than a year, leaving his mother as the heirless Queen of Cyprus. She tried to reign independently of Venice, but they imposed "advisors" on her, and fearing she would re-marry and provide an heir, in 1489 she was "persuaded" to abdicate and return to Venice, leaving her advisors in charge.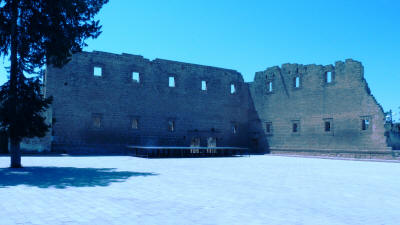 The Palace Interior, Now a Concert Venue
The Venetians immediately began converting the city from a French medieval one to an Italian renaissance one. They moved the capital of Cyprus from Nicosia to Famagusta, and around 1550 built the palace we see today on the ruins of a 13th century Lusignan one. The Lusignan palace was used as living accommodation for the kings of Cyprus till 1369, when it was destroyed by earthquakes.
The Venetian palace was largely destroyed by the Ottomans, but what little remains is impressive. The most noticeable part is the three-arched entrance to one side of Namik Kemal Square. It mirrored the triumphal archways of ancient Rome, and they were even able to use genuine Roman columns salvaged from Salamis. The upper part of the gateway imitates the temples of Greece and Rome, while above the central arch can be seen the arms of Giovani Renier, the Italian Governor of Cyprus at the time.
Until recently, the palace was used as a car park. However it has now been paved over and is frequently used as a venue for open air concerts.
See the location on Google maps.
Back to Famagusta index.