The time in North Cyprus is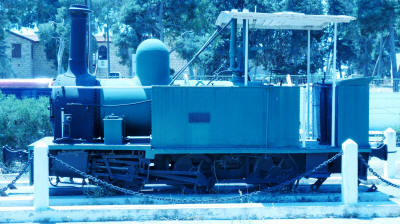 Locomotive No. 1
When the first British High Commissioner arrived in Cyprus in 1878, he realised that Victorian engineering could improve the transportation of goods throughout the island, which at the time was mainly by camel train. However, the island was still technically owned by the Ottomans, so there was some reluctance to proceed, as it was perceived that any benefit would go them.
However, by December 1878, the Guardian reported that a survey was taking place with a view to building lines from Larnaca to Nicosia, and Limassol to Famagusta, thus linking the four main centres of trade. Planning does seem to have progressed, and in 1882, two narrow gauge locomotives were purchased from the Woolwich Arsenal complex in London.
The Times reported in June 1884, however, that this order was countermanded in 1883, and that the locomotives concerned would be shipped to Egypt, forming the nucleus of a military line there.
Pressure for a railway in Cyprus didn't stop. In December of 1896, Reuters reported that there was pressure for the government to construct a line from Larnaca to Nicosia via the Meserya plain. It was pointed out that it cost three times a much to bring goods from Nicosia to Larnaca, than it did to bring them from England to Cyprus.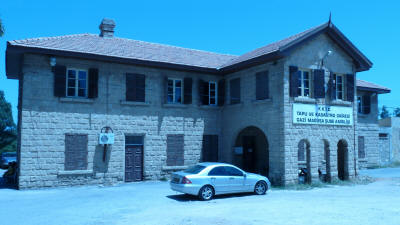 Famagusta Station
A feasibility study was finally submitted in 1903, and construction work started in 1904, with the first phase from Famagusta to Nicosia being opened in 1905. This was extended to Guzelyurt (Morphou) in 1907, and further extended to Evrythou in 1915.
The line never run at a profit, and the inevitable happened. In 1932, the station at Evrythou was closed, and the line was terminated at Kalokoria, south of Lefke. By 1948, only the section from Famagusta to Nicosia aerodrome was open, and that finally closed on the 31st December 1951.
In exactly the same way that the railway had replaced the camels, improved road infrastructure was the death knell for the railway.
Very little remains to be seen of this railway today. Most of the track bed was used when the Nicosia/Famagusta main road was built after 1974. The first locomotive to be used on the line is on display in Famagusta, on a plinth outside the old Famagusta station, which is now the District Land Office. Buildings also survive in Guzelyurt, and there are locomotives on display at Guzelyurt, Lefke and between Kyrenia and Nicosia. (All proudly claiming to be No1).
Strangely, the best preserved remnants are at Evrythou in South Cyprus, the first station to be closed. The station has been renovated, and a small section of track has been laid, all with a view to being opened as a museum to this short lived railway.
The sections from the south coast to Famagusta and Nicosia were never built. And the camels? To an extent they had the last laugh, and camel trains continued to be used well into the 1960s, although they are now all gone.
Back to Famagusta Index.