The time in North Cyprus is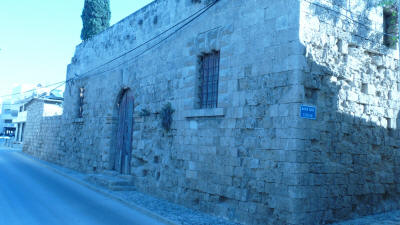 Renaissance Style House
Shortly after entering a narrow street to the north of Namik Kemal square, you will see the remains of an Italian renaissance style house. Only the four exterior walls are standing today, but it is a fine, if decaying, example of domestic renaissance architecture which is frequently seen in Italian cities. It is sometimes called the Queen's House, as it is believed the last Lusignan queen of Cyprus, Caterina Cornaro lived here immediately prior to her abdication in 1489.
Further along the same road, we come across Biddulph's gate. This is named after Sir Robert Biddulph, Governor General of Cyprus from 1879 to 1886.
Robert Biddulph had a long and distinguished career. Born on the 26th August 1835, his father was MP for Hereford and Deputy :Lieutenant of Herefordshire. Robert was educated at the Military Academy at Woolwich, and received his commission while still only 17. He saw service at the battle of Balaclava and the siege of Sebastopol in the Crimea, and the Indian mutiny, including the siege and capture of Luknow.
At the age of 25, by now a captain, he was appointed Military Secretary in the expedition to China, at the end of which saw a move to Madras, performing the same role, but with a promotion to Major, and a further promotion to Lieutenant Colonel by the time he left in 1865. He returned to England and various administrative positions, including that of private secretary to the Secretary for War.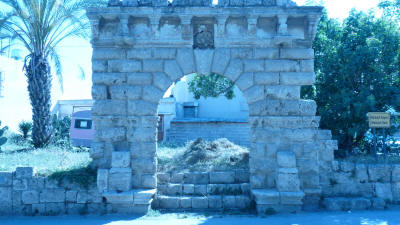 Biddulph's Gate
On the 4th November 1878, he was part of the team led by Sir Garnet Wolseley which went to Cyprus to take over the administration of the island from the Ottomans. Robert Biddulph's role at the time was described as "special operations".
The following year, Garnet Woleseley (who is supposed to be inspiration for Gilbert and Sullivan's "modern Major-General"), was suddenly posted to South Africa because of the Zulu Uprising, and Lt. Col. Biddulph was appointed Commander in chief of Cyprus. He was promoted Major-General in 1885, and knighted when his term of office in Cyprus was concluded in 1896.
His return to England saw his military career continue with various administrative positions, including that of Governor of Gibraltar from 1893 to 1900.
General Sir Robert Biddulph died on the 18th November 1918, at the age of 83.
Why he saved this particular gate from being demolished, nobody knows, particularly as it was at a time when old buildings were being demolished to make way for new, but we should be thankful that he did.
It was probably the entrance to some large merchant's house in an imitation of a Roman triumphal arch. Have a look at the decorative cornice above the gate. At one time there would have been two marble columns standing by the gateway, but these have now gone (probably recycled to elsewhere in Famagusta), although the plinths where they stood are still visible.
See the location on Google maps.
Back to Famagusta index.